Description
Cat Collar Purple 10mm for Slide on Diamante Letters
As a Guide, choose the correct size collar in length and width to fit the desired letter size. This Collar Purple 10mm width is suitable for Cats.
Width 10mm (1cm)
Length 32cm
Colour Purple
Fits 10mm Side on Letters
Letters sold separately.
Click here to choose how many letters you need for your pets name.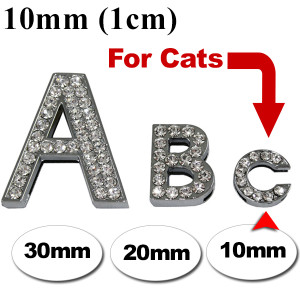 NOTE:
When choosing your slide on letters, add the correct quantity of letters making up your dogs name to the cart, and at the check out let us know the correct spelling of your pets name in the notes section. or if you forgot to do this, you can also do it in the PayPal notes to merchant or seller section. If unsure you can always give us a call or send an email.
If you forget to tell us the Name of your Pet with the order, Don't worry we'll send you an email.